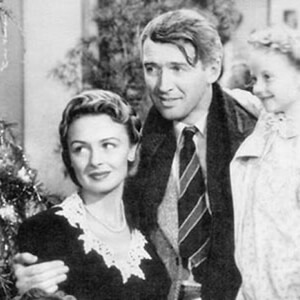 Will we ever be able to trust banks again? With the holidays approaching and with it will be the return of my favorite film of all time and a holiday classic film, "It's a Wonderful Life." Starring Jimmy Stewart and Donna Reed, the film is a heartwarming tale that tells the story of a man who learns that his life, which he has always perceived as a small life, is a wonderful gift that he learns to love and appreciate.
But as well as being Frank Capra's most popular movie, it is also a prophetic movie that predicts the future of banking success. What did this prolific director known for his glorified portrayal of real American ideals predict? You have to have a relationship with your customers. Analysts are calling it the Bedford Falls Principle.
Small banks, community banks, and credit unions tend to score higher on customer satisfaction.  From a conference held at the St. Louis Federal Reserve earlier this month, reports showed that these banks were successful using "soft information", which basically means all the stuff that isn't quantifiable and has to do with the fact that the lender knows the borrower.  In these types of cases, loan default rates are considerably lower.
This data shows that small banks have an advantage over big banks in one particular area: customer experience. They have the ability to know their customers personally. They also have the option to make decisions locally. This relationship of trust between the bank and customer does not translate for bigger banks, and as a result they are have lower customer satisfaction levels.
It's not a secret that here in the real world outside of Bedford Falls most people hate their bank. Particularly when they have poor customer service and disappointing experiences. At the top of most customers' list of grievances is typically "too many hidden fees."  But the second (and third, and fourth and so on) all have to do with their experience. These can include complaints like: no response to complaints, unprofessional attitude of staff, Staff is not knowledgeable about products and services offered, and finally, not enough importance placed on the customer.
It would seem by this feedback that big banks in general are what we at Beyond Philosophy would call Naïve organizations. This means that they are focused inwardly and not on the needs of the customer. In my second book, Revolutionize Your Customer Experience I talk about the 4 orientations that companies fall into, which include Naïve, Transactional, Enlightened and Natural.  Naïve being the first stage and also the one furthest from being customer focused. I define a naïve organization as one that either doesn't know what it should be doing or doesn't care that they aren't doing what they should be doing. We discuss this on our Customer Experience management live webinar training.
The most hated and naive bank in the States is Bank of America. The Motley Fool published an article about that details Why People Hate Bank of America. The author, John Maxfield, had several specific quotes from dissatisfied consumers, but my favorite by far was "I hope that every robber who robs [Bank of America] is successful."
The doppelganger for Bank of America in the UK is Barclays. The Financial Conduct Authority (FCA) reported that Barclays bank topped the customer complaints in the past six months. In the FCA's review of cases, 90% of them are closed already and 62% of them were in favor of the consumer. This bank is clearly not concerned with the customer.
I would be safe to assume that most big bank CEOs and board members have seen "It's a Wonderful Life" at one point in their lives. Ted Turner practically forces it down our throats this time of year on TNT. But for some reason they are not getting the message Capra was so wisely conveying in his depiction of how a man saves a small town savings and loan based on his relationships with his customers.
It isn't likely if there was a "run" on a big bank that people would be as willing to save the bank as they would the Bailey Savings and Loan. But what that few minutes of quick thinking and clever story telling, we all can see that Frank Capra truly understood the future of banking. Know your customers and truly put them before your directives, and you will have the kind of relationship with your customers that would make George Bailey proud.
What can you do to bring the Bedford Falls Principle to your organization?
Colin Shaw is founder & CEO of Beyond Philosophy, one of the world's first organizations devoted to customer experience. Colin has been recognized by LinkedIn as one of the top 150

Business Influencers

in the world.  He is an international author of four best-selling books on Customer Experience. Colin's company, Beyond Philosophy provide consulting, specialised research & training from our Global Headquarters in Tampa, Florida, USA.

Follow Colin Shaw on Twitter: @ColinShaw_CX