When I started Beyond Philosophy back in 2002, I could ascertain whether a company was customer-focused or not right away. I wondered how I did that. When I thought about it, there were some common telltale cultural signs organizations share that indicate where their focus lies.
This answer became my second book, Revolutionize Your Customer Experience,  which explores how the culture of a company reflects how customer-centric the organization is. It is also where I first shared the Native to Natural™ model.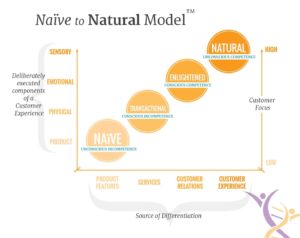 The Naïve to Natural Model classifies organizations into four orientations, which I called Naive, Transactional, Enlightened, and Natural. Naive organizations are the least customer-focused, looking inside at operations rather than out to customers. Natural companies are the opposite; they are "naturally" focused on the customer. Transactional and Enlightened are somewhere in between the two extremes.
We shared some examples of some of the indicators of whether a company is customer-centric or not customer-centric on a recent podcast. The signs reveal themselves best as answers to questions.
Read More...