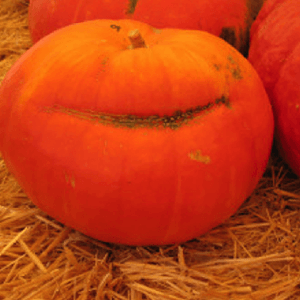 My earlier blog was about the emotional relationship and the subconscious, and their impact on our purchasing decisions. I continue this theme by comparing two shopping experiences.
But first, it's recently been pumpkin time here in Northern California.  I entered a pumpkin patch a couple of weeks ago and noticed it was thoughtfully organized based on "pumpkin personality".  Rows of unhappy pumpkins – warts, misshapen, and downright scary looking.  Then rows of perfectly formed and happy looking pumpkins. The smiling pumpkin (photo) caught my attention and drew me into an area of the patch also dedicated to farm-made products like jams and preserves.  Smart product placement that also brought a smile to my face.
My last blog mentioned that I shop at stores that make me feel good about spending my money and the actual purchases I make.  The emotional connection with companies lasts a long time and plays a very pivotal role in future spending decisions.
It's been eight years since I entered a Walmart store .  (I'm sure anyone reading this blog is very well aware of Walmart and their tag line  'Saving people money so they can live better" with 2013 fiscal year sales of approximately $466B, Walmart employs 2.2 million associates worldwide, per their corporate web site.
The last time I shopped at one of their stores was only because Walmart carried one item I could not find anywhere else.  I painstakingly searched all my options before heading to Walmart and only as a last resort.
Parking in the parking lot I noticed oil spots, shopping carts left in parking spaces, trash littered around.  It looked unclean and untended.
It was night time and the parking lot seemed overly dark.  My subconscious kicked in and I walked quickly to the entrance.  Once inside, however, I still felt uncomfortable.  In fact, even more uncomfortable than in the dimly lit parking lot. The artificial lighting and the immenseness of the store appeared overwhelming.  I hurried to locate my one item and immediately got in line to pay.
While in line, I observed fellow shoppers and staff.  No one looked happy.  Especially the employees. The customers did not interact with one another or the cashier. None of the customers looked like they were enjoying their shopping experience.  It dawned on me that perhaps none of the customers had an expectation of a pleasant or engaging customer experience. The cashier avoided eye contact and interacted with customers only when absolutely required, Colin Shaw also had a similar experience and discusses this in more detail in his post, 'Walmart Disappoints Wall Street & Customers Alike'.
…So I paid for my purchase and left as rapidly as I could!
"You'll feel better when you get out of the store", I remember telling myself as I exited the store.
"You'll feel better when you get out of the parking lot", I remember telling myself when I got in my car and quickly locked my car doors. Once again, the subconscious reacting to the dark parking lot and sending warning signals that I may not be safe.
"You'll feel better when you get home", I remember telling myself when I neared my neighborhood (15 minutes after leaving the store). Once home, I paid more attention to how I actually felt. I felt bad about myself: bad about myself for having shopped at Walmart.  That feeling remained for some time.
I don't shop at Walmart.  It has nothing to do with price and savings.  The fact that I can get more for less never outweighs how I feel about the potential of shopping at Walmart.  Paying a little more but feeling good about my purchases, and myself, means more than savings. Why is how you feel so important?  50% of our customer experience is about how you feel. Beyond Philosophy conducted extensive research on emotions that drive and destroy value.  One of the emotions that destroy value is "unhappy" and one key emotion that drives value is "happy". On the flip side of the Walmart purchasing experience, is shopping at Trader Joe's.  Trader Joe's started out as Pronto Markets. In 1967, the CEO changed the company name and the way we they did business, (from their web site: "including donning the crew in Hawaiian shirts.  Most importantly, we started putting innovative, hard-to-find, great-tasting foods in the "Trader Joe's" name. That cut our costs and saved you money. Still does.")
A couple of items from the Trader Joe's Timeline: 1) on the serious side; "We introduced simple symbols on our packaging so our customers could easily identify the right product choices to fit their lifestyles." 2) On the whimsical side; "A spontaneous round of karaoke breaks out in the frozen aisle of our Oceanside store." And my favorite from the timeline: "In 1994, a Crew Member in Santa Barbara dressed up as a giant pickle. We still don't know why."  Compare that timeline with Walmart's Timeline: "1980 – Walmart reached $1 billion in annual sales, faster than any other company at that time….1997– The company celebrated its first $100 billion sales year."
Interestingly, even though saving money is a key part of Trader Joe's business model, saving money is not the catalyst for my shopping at Trader Joe's. Why? The employees look happy.  They actively engage with their customers.  The customers look happy to be shopping and spend more time in the store.  Human interchanges are commonplace in their stores.  People sharing their favorite products, recipes, the conversations flow throughout the store.  Trader Joe's provides unique items not available elsewhere.  There's always something new and interesting.
The store is well laid out and visually pleasing.  It's on a smaller scale than the usual grocery store and – by far – more approachable than Walmart. It offers shoppers what they need but not so much that it is overwhelming. There's a whimsical approach in the décor, and it is picked up and conveyed by the staff.
Recently I stopped at the case of a wide assortment of yogurts at Trader Joe's.  The employee strolling down the aisle stopped and asked if I would like a recommendation.  "Try the pumpkin yogurt. It's great and it is only available through the end of November."  When I checked out, the cashier asked about my purchases and made suggestions on how to use them.  The staff seem well-versed and have a natural aptitude for interacting with customers and establishing a friendly rapport.
As I leave the Trader Joe's store, I contrast it with my Walmart experience. Leaving Trader Joe's I feel engaged, valued, and happy.  I also feel a sense of community and belonging.  That feeling typically stays with me for a long time and keeps me returning to Trader Joe's year after year.
Sue Morgan provides strategic consulting, research design and in-depth, leading-edge analysis that helps clients deliver outstanding business results through deeper customer experience, communication, relationship, employee and brand equity insights. Beyond Philosophy provide consulting,

specialised

research & training from our Global Headquarters in Tampa, Florida, USA.