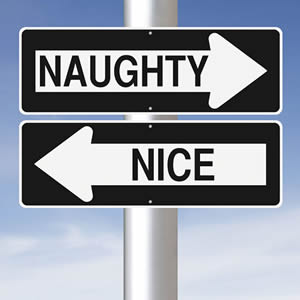 Experts predict that we are going to have a really spectacular holiday shopping season this year with sales that could top $1.5 Billion (that's right, with a "B"). This is great news for nearly everyone, with the exception of the customer service department. Why? Because today's customers are more demanding than ever and they have high expectations from the people with which they do business.
Here are three ways that you can stay off your customer's naughty list this year for customer service:
#1:  Have an Omnichannel strategy.
Omnichannel refers to a fully integrated and consistent approach to the customer experience no matter which channel is chosen, meaning mobile, online, retail outlets, catalog phone centers, etc. This type of strategy means that your consumers experience your brand no matter what purchasing channel they are using. Promotions are not channel specific in an omnichannel strategy, either, but instead apply unilaterally across the board.
According to a study by Zendesk that analyzed the responses of 7,000 people aged 18-64 from the UK, US, Australia, Brazil, France, Germany and Japan, over 2/3 of global customers said they use different channels before deciding on a purchase. Most of them expect a response in real-time regardless of which platform they are using. Furthermore, the Zendesk study determined that 78% of consumers think that a company's reputation for customer service is a determining factor in their purchase decision. But maybe most importantly, one in three of these customers said that they will spend more when the customer service is exemplary.
Here is an excellent infographic that tells you everything you need to know about what consumers expect:

What all of this means that if you aren't already offering this kind of integration for your consumers you should. It also means that if you do, you need to make sure that you are delivering your brand of customer service, usually expressed in a customer experience statement, in every channel that you interact with them.
# 2: Don't tinker with your qualifications for free shipping
Consumer reports recently dinged Amazon for raising their qualification for free shipping from $25 to $35.  I was a little surprised that they did this, too. But of course all that drone delivery technology doesn't come cheap, does it?
Of course, many of the Amazon.com carts are already over $35, as anyone who has spent $19 and tried in vain to find something else that they wanted and was eligible for Free Super Saver Shipping to throw in the cart that was $6 can tell you.  Despite this fact, the perception is that by raising the cart requirement by $10, the consumer feels they have lost something. And if there is one thing I think we can all agree on it's that we all hate to lose.
Honestly, one of the biggest challenges for buying things online is paying for shipping. At a time of year when some brick and mortar retailers are practically paying consumers to come down and shop at the store, Amazon raising the amount a consumer needs to purchase to get free shipping seems at the very least, poorly timed.
#3: Take it back.
We all know that quite a few of the gifts that we have received over the years end up going back. To be fair to the giver, we appreciate the gesture; but sometimes the gift is too large/too silly/too ugly to keep. We also know that we don't always have a receipt attached or enclosed and asking for one will only create a situation that we would rather avoid. Nothing dampens the magical moment for the giver after a gift is opened than the query, "Thank you. It's lovely…. I wonder do you have the receipt?"
Consumer reports listed several organizations with less than customer centric return policies, including Best Buy, which requires a receipt and a photo ID that they then enter into a database to track your future returns and exchanges. Yeesh, guys, I just didn't want two copies of  "The Smurfs 2". Is the Blacklist really necessary?
But Best Buy wasn't the only one. Consumer reports was less than complimentary of BJ's Wholesale Club, who doesn't accept returns of any of its perishable goods and Fry's Electronics, because they won't take back TVs larger than 24 inches (Peterson Pars 7-8). Apparently at Fry's, size matters. J
Hearing that certain retailers have strict return policies that make taking back an unwanted gift an ordeal seems like an organization that is definitely not customer focused and what we would call at Beyond Philosophy Naïve. If you want to keep today's demanding customers (that have a lot of choices out there) happy, then you had better learn to take it back.
So the holidays are going to be huge this year. Billions, not millions, of consumers' dollars are going to be exchanged in the next few weeks. Make sure that your customers keep you on the nice list this year — or you may find that instead of your share of those billions of dollars, all consumers give you is a lump of coal.
Colin Shaw is founder & CEO of Beyond Philosophy, one of the world's first organizations devoted to customer experience. Colin has been recognized by LinkedIn as one of the top 150

Business Influencers

in the world.  He is an international author of four best-selling books on Customer Experience. Colin's company, Beyond Philosophy provide consulting, specialised research & training from our Global Headquarters in Tampa, Florida, USA.

Follow Colin Shaw on Twitter: @ColinShaw_CX