The numbers are staggering. The smart phone is changing the way Customers interact with most organizations in the way they get information from friends via texting, social media and other online areas, in the way they buy things and generally behave especially in retail. The whole area of 'showrooming' where a person wants to look at a product, goes into a store, looks at the product and then buys online is having a massive effect on the retail trade.
Business Insider reveals research from BI Intelligence which highlighted some fascinating facts.
It has a massive impact on every day sales: Deloitte Digital believes smartphones influenced $159 billion in U.S. store sales over the course of 2012 or 5% of the total, and will influence $689 billion of store sales in 2016. IDC predicted that smartphone use influenced between $700 million and $1.7 billion in U.S. holiday season retail sales in 2012. Fifty-nine million U.S. shoppers will use their smartphones to showroom in 2013.
Specific retailers, such as JC Penney, suffer more from the practice: A recent study revealed that JC Penney — which just announced a disastrous 32% decline in same-store sales for the fourth quarter of 2012 — is at risk from showrooming because showroomers visited its locations 14% more frequently than the average U.S. shopper did in January 2013. Other chains like PetSmart and Kohl's had even worse results.
Retailers are responding in dramatic ways: Price-matching is a risky strategy some retailers are engaging in. It nudges offline retailers into a price war with e-commerce that they can't win. U.S. electronics retailer Best Buy announced that starting March 3, 2013, its stores would match the prices of 19 major online competitors, including Apple, Amazon, and Buy.com. Target also has a price-matching policy in effect. Another popular anti-showrooming strategy might be described as the "information blackout." Some retail chains are blocking cell signals in-store, or adopting proprietary barcodes that won't allow shoppers to check prices at competitors' sites. That, too, can backfire – as it is tremendously annoying to customers.
For every organization, addressing the needs of the mobile customer is not a nice to have, it's an absolute essential. Who is the mobile customer and how can companies better appeal to them?
According to Cisco, by the end of 2013 there will be more mobile devices on the planet than people.
According to the IDC Worldwide New Media Market Model Forecast, by 2015 there will be more people accessing the web using a mobile device than a wireless computer.
RealBusiness says that there are an estimated 24 million smartphone users in the UK alone, which is nearly 38% of its population, and this number is projected to rise steadily until 2016.
In February 2013 alone there were more than 275 million app downloads in the UK.
I also saw this great infographic from Parature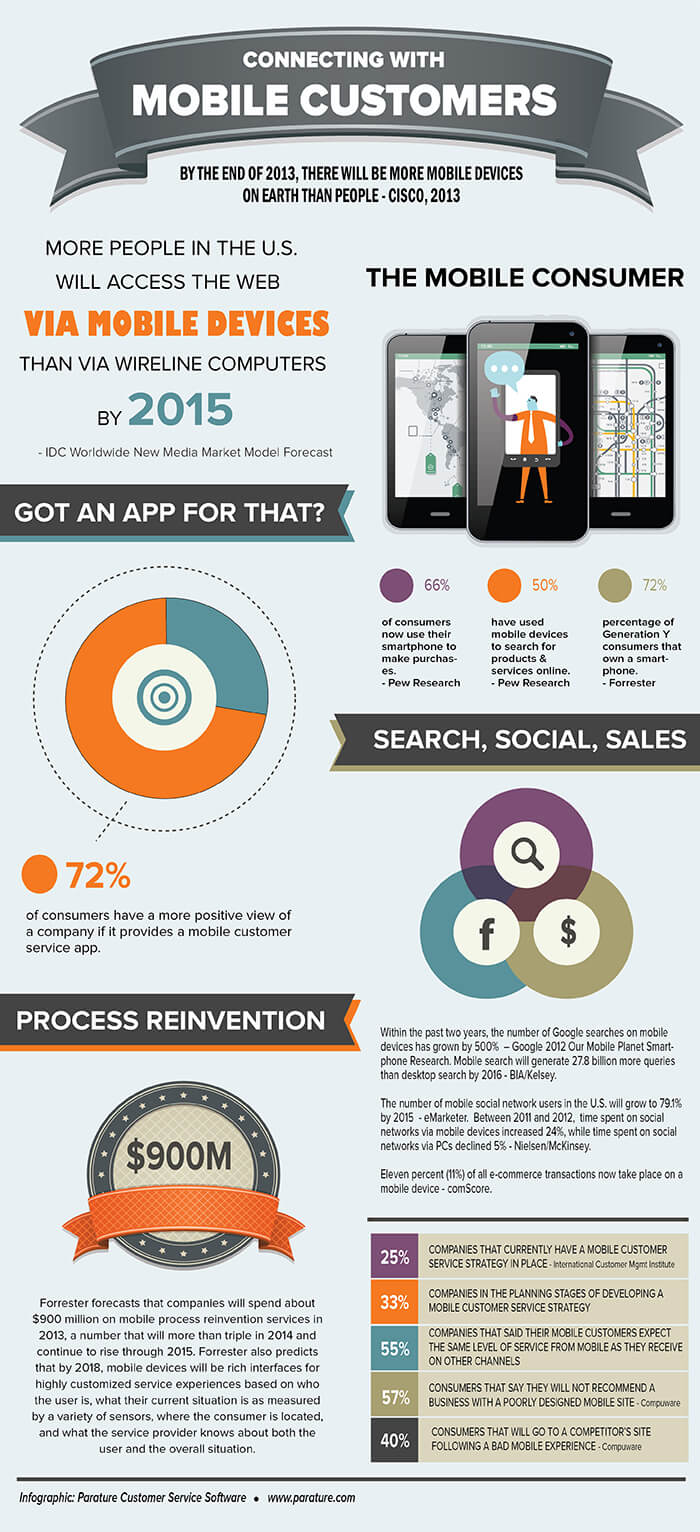 The statistics are clear. The world is becoming mad for mobile technology. Mobile simply makes things easier for many consumers and users. It should be obvious that mobile technology is the way of the future when it comes to doing business and making purchases, and that future is beginning now.
How can you integrate mobile technology into your business in order to reach the everyday mobile consumer more effectively?
Vouchers: Giving users access to mobile vouchers that they can redeem for in store purchases is an extremely effective way to improve storefront traffic. Consumers can simply present their smart phone with the voucher, as most can be simply scanned or a number typed into the register. Mobile vouchers, according to Juniper Research, are redeemed as much as 10 times more often than printout and traditional voucher combined, and the numbers are growing significantly.
Information Apps: According to Pew Internet, during the holiday shopping season last year, 72% of all smart phone owners relied on their devices inside the store in order to gain information that was not otherwise available to them. 46% of them phoned a friend, 28% researched product reviews and 27% of them used their smart phone to compare prices. Another option is apps with an in-store mode, offering location specific information to customers such as mobile vouchers, interactive maps and deals that are specifically relevant to where they are.
Loyalty Programs: Loyalty programs are nothing new to the world of business, but mobile makes it easier to engage customers with loyalty programs. Returning customers, according to Inc., spend 67% more on average compared to first time customers. Mobile based loyalty programs can allow for mobile tracking of points or reward redemption. Visible, easily accessible loyalty programs are those which perform best.
Mobile Payment Processing: This is another avenue where businesses can thrive based on mobile technology. You can use mobile technology to take payments from customers. They can make purchases by mobile in order to skip long register lines. Mobile payments significantly simplify the buying process for many companies and the customers that they serve.
Society is changing rapidly, moving to mobile technology due to its ease of use and availability. Businesses must now do the same in order to keep up with this changing landscape. There are many ways to benefit from what mobile technology has to offer as a business owner, you simply need to determine how you can best benefit and then utilize the technology in that manner.
Sources:
http://www.resourcenation.com/blog/4-ways-mobile-technology-will-enhance-your-customer-loyalty/36787/
http://realbusiness.co.uk/article/19058-40-stats-about-mobile-that-every-ceo-should-know
Colin Shaw is founder & CEO of Beyond Philosophy, one of the world's first organizations devoted to customer experience. Colin is an international author of four best-selling books & recognized Business Influencer by LinkedIn. Beyond Philosophy provide consulting,

specialised

research & training from offices in Atlanta, Georgia and London, England.

Follow Colin Shaw on Twitter: @ColinShaw_CX