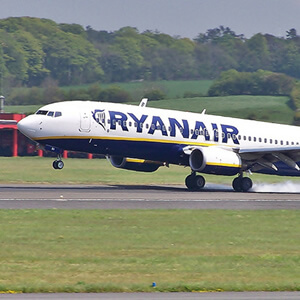 I hate Ryanair. Apparently, according to the New York Times, I am not alone. Many people hate Ryanair. Enough that the shareholders in the company are holding the CEO's feet to the fire on how the company is treating customers as they announce that  they may not achieve their profits forecast.
For those of you not acquainted with this airline, Ryanair has copied the air travel juggernaut, Southwest airline model. They are the largest budget airline in Europe and the company is rapidly expanding.
But in their effort to recreate the success of Southwest, they left out one key ingredient to Southwest's recipe for success: excellent customer service standards. It shows in Ryanair's experience from the very beginning and comes from the very top.
The complaints about Ryanair are varied. From paying $95 to print a boarding pass at the airport to paying $80 for bags that were deemed too big by Ryanair's standards. But it doesn't stop there. Nearly all Customers complained about the rude employees that herded, goaded and in some cases, bullied them into compliance of Ryanair policies.
The CEO often sets the standard for customer service for the company. Ryanair's CEO, Michael O'Leary, has an attitude towards the customer that is appalling. It is as if the fact that they have very cheap flights means that they can not only lack customer service, but also actually cross the line into abuse.
Here are just a few things he has said about customers in the past:
 "We think they should pay 60 Euros for being so stupid." (regarding the boarding pass fee)
 "You're not getting a refund so **** off. We don't want to hear your sob stories. What part of 'no refund' don't you understand?" (when customers complain and demand a refund)
"Anyone who thinks Ryanair flights are some sort of bastion of sanctity where you can contemplate your navel is wrong. We already bombard you with as many in-flight announcements and trolleys as we can. Anyone who looks like sleeping, we wake them up to sell them things." (regarding the in-flight experience)
You will recall from my blog post, 7 Steps to Improve Your Employee Engagement, I explained that happy people give you happy Customers. Well this is what O'Leary seems to think about them:
"MBA students come out with: "My staff is my most important asset." Bull****. Staff is usually your biggest cost. We all employ some lazy ******* who needs a kick up the backside, but no one can bring themselves to admit it."
(Sigh)
Customer Experience is about a mind-set. It's about a mission to design and create a deliberate experience for the people that frequent your company. But the mind-set at Ryanair is combative with customers, made obvious by O'Leary time and again. If is this is the example he sets for his team, what results can you expect from the employees?
Unfortunately, as Dr. Muhammad Taufiq Al Sattar can tell you firsthand, it results in despicable customer experience. After learning that his wife and three children had been killed in a fire at his home, he was trying to get an earlier flight home. The surgeon who is based in Dublin and flies home to see his family on weekends via Ryanair was charged $253 to make the change to an earlier flight. Ryanair has since committed to refunding his money. But this may be too little too late in regards to the court of public opinion.
To be fair, no one is required to fly on Ryanair. If you do, you realize that in order to have cheap flights you must sacrifice some of the extras. In order to keep costs low after all, they have to cut somewhere. There is no question that airline travel can be frustrating, as Christopher Frawley discusses in his recent post, "Why the Airline Experience can be Frustrating and Bewildering".  But at the very least, employees could smile and be polite. That doesn't cost anything. After all, Southwest has built a company on this concept. According to the American Customer Satisfaction Index (ACSI) scores of 2011, Southwest scored 81 out of 100, the highest in the industry and 17 points above the second highest airline. I can only imagine what the ACSI score would be for Ryanair. I wonder, is it possible to have negative numbers for that score?
At Beyond Philosophy, when we assess an organization on how customer centric they are, we would call this a Naïve company. The lowest possible. Ryanair is a classic example of a Naïve company. In our Naïve to Natural model, we talk about the four stages of a company in its journey to become customer centric.
Companies typically recognize they need to become more Customer centric when they feel pressure in their bottom line. I have been waiting for this to happen with Ryanair and I think it may have just happened. Ryanair is feeling pressure to get more profits, so O'Leary is under pressure to initiate change. In recent articles at the BBC and New York Times Business News, O'Leary admits that they need to address the "issues that unnecessarily annoy the customer." He also takes responsibility for the abrupt culture that he attributes to his own character flaws. The same article points out that this is a result of pressure from the shareholders who believe that these transgressions to the customer are affecting the profits.
In my opinion, it may be too late. People really resent Ryanair. Some people I know talk about them with such distain it is amazing. It is more of a hatred than a dislike. It is going to take more than "fixing issues that annoy the customers" to overcome their present customer experience condition. Moving from Naïve to Natural is going to take a lot of work and commitment on the part of the whole organization. And it wouldn't be bad to offer a few free drinks from the trolley down the center aisle.
Colin Shaw is founder & CEO of Beyond Philosophy, one of the world's first organizations devoted to customer experience. Colin is an international author of four best-selling books & recognized Business Influencer by LinkedIn. Beyond Philosophy provide consulting,

specialised

research & training from our Global Headquarters in Tampa, Florida, USA.

Follow Colin Shaw on Twitter: @ColinShaw_CX