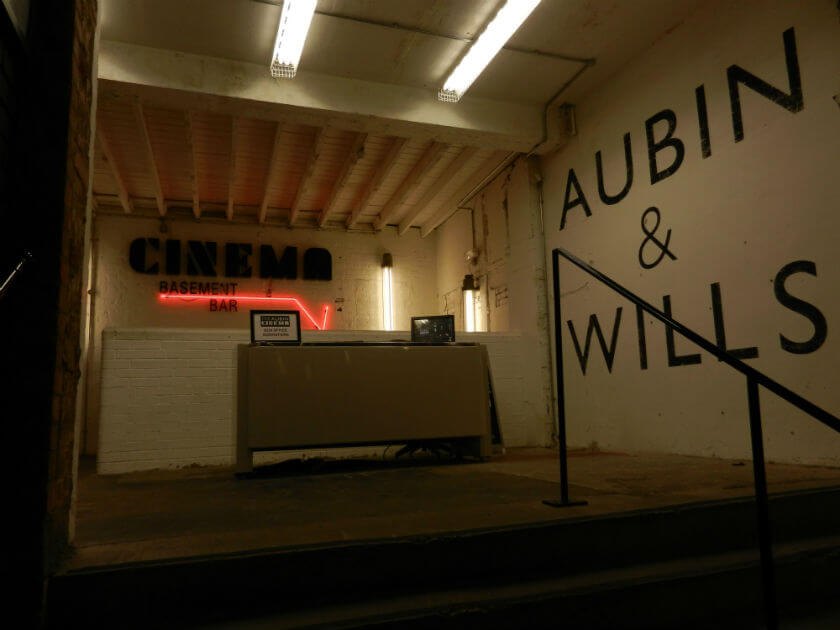 Multimodal experience is an experience that involves more than one sense (sight and smell for example). It is getting closer and closer to becoming business as usual. We are not there yet but its incidence is increasing. Indeed, I have previously blogged about multimodal experiences – especially how e-readers are trying to incorporate ambient sound.
My colleague, Kalina Janevska recently wrote a blog on the edible cinema concept. She states that the "Edible Cinema event … attempts to deliberately and in a specific way combine the visual and audio (the movie) with the taste and smell (food)". She goes on to state that "Engaging customers' senses is not a new concept to customer experience. As human beings our senses are constantly on, and businesses (particularly retailers) attempt to stimulate them in ways that are pleasurable in order to create positive emotions and affect their customers' behaviour. But rarely are more than 2 senses stimulated deliberately".
I read her blog with interest and decided I would see what this multimodal cinema experience was really like. It is called Edible Cinema and held at London's Aubin Cinema. Now the Aubin is already an experience worth a visit on its own with being edible. It is one of these comfy sofa style cinema where you can have a nice glass of wine (or stiffer drink) as you sit in plush sofa/ chairs. Some of the sofas are two-seaters so you can share the experience with a partner much like you would if watched the movie at home. Each chair has a plush ottoman inviting you to prop your feet up. You are also provided with a blanket to wrap yourself up in case you get cold or if you just like to wrap up. So basically they are providing a home cinema experience to those of us who do not have home cinemas.
| | |
| --- | --- |
| | |
The edible cinema adds taste to the Aubin hip trendy cinema equation. Here's how my experience went. You get to the cinema and descend to the cinema level. Once registered, you are provided with a gin and beetroot based cocktail. Apparently, the event was sponsored by Bombay Sapphire Gin. It was easy to get the connection given that the movie on offer was Beetlejuice. The taste was different with its beetroot base. I had two for good measure. After entering the small but plush theatre we found a tray of nine numbered containers each with a treat we were supposed to eat at predetermined times during the film. Item number 7 was actually a mini martini that was kept chilled in the seat side wine cooler which comes standard at Aubin.
We were give brief instruction that at appropriate times during the movie a number sign to the left and right of the screen would be illuminated for a short time indicating which item should be consumed. They did have the menu available to look at before the start of the show if you were so inclined. I chose to find out as I went along.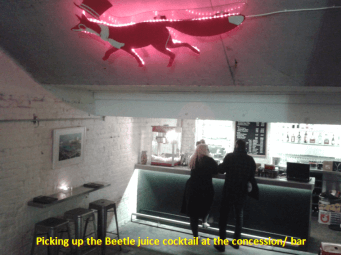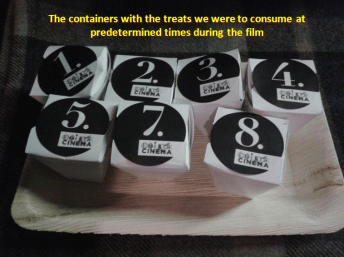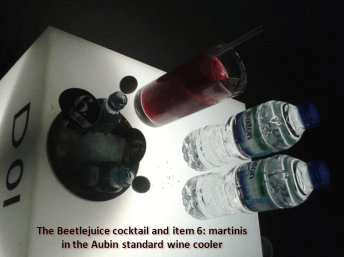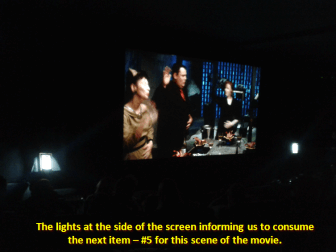 For the most part, the menu selection was not a straight interpretation of the movie. It was more an evocation of the mood and ambience of what was on the screen. Foodies would probably get it immediately but I am not a foodie. At the time, I enjoyed it and it got me to look at the movie in a different way. I was searching for the connection with the food I was eating. Sometimes I got it, at other times it was not so immediate. After the movie an interesting thing happened. The discussion was all about the food choice and the meaning. I found it added another dimension of meaning to the movie. Here are a few examples: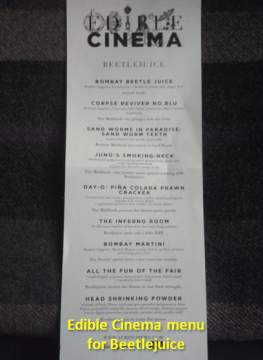 In the first scene when the main characters, the Maitlands die in an accidental drowning, we were served a bitter drink.
When the netherworld case worker was warning the Maitlands against working with Beetlejuice, we were served smoked peppercorn beef jerky causing a peppery sensation in the mouth along with the tough chew that was required. We assumed this to be indicative of a warning.
In the funfair scene, we were served a candid apple covered in popcorn and honey perhaps evoking memories of childhood carnivals.
When Beetlejuice entered the brothel, we were given a soft marshmallow with rose petal essence. Perhaps this was meant to suggest the smell of cheap perfume along the feeling of seduction and sweetness.
Granted Beetlejuice is not necessarily my kind of movie but that is where I found Edible Cinema takes off. It made what would have been just an OK movie into an interesting experience, one that I now recommend others to try out. I can taste their NPS® going up.
Qaalfa

 Dibeehi is Chief Operating and Consulting Officer 

at

 of Beyond Philosophy one of the world's first organizations devoted to customer experience. 

Qaalfa

 is an international co-author of Customer Experience: Future Trends and Insights. Beyond Philosophy provide consulting, 

specialised

 research & training from offices in Atlanta, Georgia and London, England.