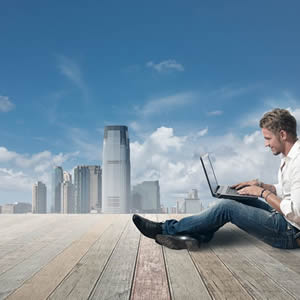 The generation gap is hardly a new concept. But how do you engage the various generations and especially the Millennials. Further Gaps have appeared between parents and children through the ages. So I guess I shouldn't have been surprised when my son and I discovered one between us.
It manifested itself in a strange place, with moisturizer.
My son Ben works for BBH in advertising. Ben was telling me about a new trend for grooming products for men, including moisturizer. Then he showed me this ad he worked on.
I looked into this a little bit after we talked. Skin care is projected to be a $735Million business this year. That is just one section of the immense men's grooming market. In the U.S., 42% of men say they participate in skin care in the shower. To be clear, they are not talking about washing their skin, but extra "care" like scrubs and (can it be true?) moisturizer.
To one of us, moisturizer is for sissies who are afraid of marring their beautiful countenance with freckles, wrinkles or any other form of sun damage. To the other it's a statement of manliness. Even as I type it, I can't wrap my head around it. And there it is, the gap. Where did I go wrong in bring up Ben!
My son is a millennial. I wrote a post about this generation, Millennials Want It All: So Give it to them. In it I describe their expectations for their customer experience, which are high, immediate, and fairly capricious.
It's clear that there are many places where the generations are not in step with one another. But there is an area where I think Millennials and 'Cuspers' like me can come together in inter-generational harmony and that is in their idea of the optimal workplace.
Let me explain…
This generation that brought us the 'Selfie', video game controllers that have far too many buttons to master, and men's moisturizer has an excellent modification to the idea of how they want to work. I believe their creative thinking and innovation are an excellent solution for the future of employee engagement.
Millennials Want It All, So Give It to Them…At work.
By 2025, Millenials will make up 75% of our workforce . But these are not like any group of workers that has come before them.  They use social media platforms to build their individual brand and freelance websites to start their own businesses and regular employment is typically viewed as their "day job."  Ben is the same. See him on Twitter.
They want to work in collaborative environments (read: no cubicle farms) with a clear path to advancement and if they don't see one, they jump ship. This presents a challenge to business as usual. As these demanding consumers and employees drive more and more of the free market, businesses will need to adapt their customer and employee experiences to compete.
How To Get the Selfie Generation to Work for You
There are two areas businesses today need to strategize to attract and retain this new generation: customer experience and employee engagement.
I always talk about customer experience, and I still probably will before this post is over, but for today, let's focus on employee engagement.
The Washington Post ran a slideshow of an office built with the millennial worker in mind.
http://www.washingtonpost.com/business/capitalbusiness/an-office-built-with-the-millennial-worker-in-mind/2013/08/29/9b6d70a6-10b8-11e3-8cdd-bcdc09410972_gallery.html#photo=1
The most obvious difference in this workplace is that there is not a cubicle in sight. In fact, workers don't even have assigned desks. Instead they employ a practice called "hoteling", a name given to describe how the employee doesn't have an assigned workspace but instead reserves a common one for the days when they are "going in to the office." The areas can be collaborative in nature or individual workspaces. White noise is used to dull the ambient noise to provide employees a certain amount of focus without undue distractions. For their personal items, they have a locker complete with an outlet for charging their technology inside.
The innovations go on and on, but the idea is the same: this is a new way to work using the technology available to create a work environment that compliments a change in social norms.
The point I got from the Washington Post's slide show is that millennial workers don't see themselves tied to an office. They fancy they are like contractors that work where they want, when they want, and sitting by whomever they want.
The brilliance of this office set up is that these millennial workers are easy to turn into an engaged employee by offering them an environment that works with their creativity and innovative perspective on their role in the workforce. It says, "I get you and want you to be a part of my team."
The Importance of Employee Engagement
Employee Engagement refers to a concept that has emerged in the past two decades.
Before that time, companies were focused on the happiness that employees felt about their job and its related compensation and benefits, work environment and personal development opportunities. These feelings describe an employee's satisfaction.
But Employee engagement takes employee satisfaction one step further. Measuring employee engagement requires delving into the willingness of the employee to invest personally in their work. Engaged employees work like it is their passion to meet the goals and mission of the company. They use this passion to further the goals of the organization through innovative thinking and creativity.
How to Create Engaged Employees
Employee engagement thrives in collaborative and cross functional environments. Engaged Employees are critical to creating a positive customer experience. Their efforts to solve problems and create "wow"! moments for the customer on behalf of the mission are what drives value to the customer experience and create customer loyalty.
I wish that I had the recipe book for how to create engaged employees in 5 easy steps. It's not as simple as that. There are many factors at work in every unique situation so there is no one-size-fits-all formula that if you follow you will get engagement from your workforce. That being said, I think that engagement starts with a solid foundation of leadership with a specific goal in mind. Then I think you add in good hiring and screening of the types of people you introduce your work force. Now add in listening and collaboration. Bake for 6-12 months and see what happens.
Recipe aside, Generation Y workers are going to need different methods of motivation in order to become engaged employees. Workplaces will need to adapt to this need and adopt these ideas of the new worker in order to differentiate themselves in a global marketplace. Employee engagement requires that a business focus on more than just job satisfaction and compensation as motivation for performance.
Companies that focus solely on money as reward can sometimes create an individual environment, whose motivation is more selfish. This can also create silos (as discussed in Zhecho Dobrev's blog post, "How to Overcome Organisational Silos") where members of the team or even departments that are working on their own with no interaction with the other departments. This environment disrupts the workflow of a company, and ultimately the customer experience. This is not a company where employee engagement thrives.
By making sure that motivation comes in many forms besides money that contribute to the employees ability to get on board with the mission and promote it will go a lot further in fostering and environment that creates engaged employees — Millennials, Xers, Boomers alike.
If you would like to learn more about how you can harness the power of engaged employees, register for our webinar, "'Employee Ambassadorship: Generating and Delivering "Wow" Customer Experiences'. In this webinar we explore what makes an employee the best kind of engaged employee, the Ambassador, and how you can use this part of your team to inspire and invigorate your employees.
And speaking of invigoration, I have to ask all of you men and women alike, did you moisturize today?
Colin Shaw is founder & CEO of Beyond Philosophy, one of the world's first organizations devoted to customer experience. Colin is an international author of four best-selling books & recognized Business Influencer by LinkedIn. Beyond Philosophy provide consulting,

specialised

research & training from our Global Headquarters in Tampa, Florida, USA.

Follow Colin Shaw on Twitter: @ColinShaw_CX