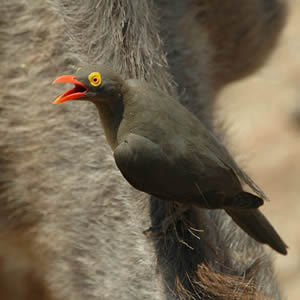 The African Oxpecker is an animal that lives on the backs of large animals, taking care of the ticks that suck their blood. In addition to ridding the larger beast of pesky ticks, the bird, which actually sucks a little of the animals blood also, makes a loud shriek when startled serving as a personal alarm for the animals as well. Animals a hundred times its size, including Rhinoceroses, tolerate, even welcome this small bird and its blood sucking. Why? Because the bird forms one-half of a relationship, with shared benefits for both animals' survival. This is more than collaboration, this is a symbiotic relationship. Once can't survive without the other.
It isn't just rhinos though. Sharks are the benefit of a symbiotic relationship as well. Cleaner fish, like catfish, gobies or wrasses, will clean the debris and parasites that collect on the outside skin of the larger fish. The sharks even enjoy a good tickle as an added bonus while the cleaner fish dines.  The shark refrains from eating the fish and the fish gets a meal from the skin of the fierce predator. This symbiotic relationship has no end to mutual benefits — particularly for the Goby.
Like the survival needs of Oxpecker and the Goby, symbiosis is a critical concept for corporations' survival. Today I read an article by business designer Toni Keskinen called, "Symbiosis Strategy: Creating the Ultimate Customer Value Proposition" which discusses the need of today's business to generate a value proposition that has massive input from its customers.  He describes the symbiotic relationship as the ultimate value proposition that requires collaboration with your customer to achieve.
Many corporations fail to discover the symbiotic strategy because they do not understand that it cannot be achieved alone. You have to create it with your customer not for your customer. They — your customers –need to contribute to this ultimate value proposition. Otherwise, you just have an ultimate value suggestion, which is not nearly as effective.
Customers are willing participants in this strategy. Customers are willing to give their two cents, especially if you make it both mentally and financially rewarding for them. In other words, you probably should pay more than 2 cents for it.
Keskinen outlines the 4 models of the Symbiosis Relationship as it exists today in the interaction between corporations and their customers.
The 4 Models of Symbiosis Relationship in business:
Shared Value = Symbiosis between society and business: Businesses need to examine how they can enhance the customer experience by investing in services and infrastructure that serves them in other aspects of their life, particularly those companies whose customers may also be their employees.  This is especially true when entering foreign markets. Examples outside the country include providing education opportunities for the workers to enhance their skills or investing in better transportation avenues for the workers to get to and from work. This concept translates to domestic customer/employees as well. These types of investments in the society the corporation serves creates a shared value. The employees/customers get a better way of life and the business gets more employee/customer loyalty.
Platform/standard based = Symbiosis between platform owner, partners and customer: Windows is a good example of this model. When Microsoft developed a platform that was universal for the PC, it created a forum in which other companies could invent and improve the experience for all Windows users. Over time, the accessibility and commonality Windows provided allowed other companies like Oracle, IBM and countless others to grow and profit. In addition, the platform provided a vehicle to help establish protocols for the development of the Internet over the past two decades. This relationship benefits all of us from Microsoft to its partners to us, the end users.
Co-created = Customer & company: Facebook and LinkedIn would not be the social media powerhouses they are today without the contribution of the users. Likewise with popular online gaming forums like World of Warcraft. In this model, the company creates a forum for users to enjoy and enhance with their original content. Keskinen calls this concept co-creation. The benefits to each group include:

Customers get a fun place to play and interact
Advertisers get great reach for the users of the platform
Companies that own the platform enjoy the benefits of co-created content and value for their advertisers

Co-Created content is an excellent way to enhance your Symbiosis strategy.

Coalition = Several companies working together for a customer: The idea of teamwork for success is not a new one. The concept of teamwork in customer loyalty cards, however, is a great new idea that is generating excellent results for both consumers and coalition partners. Keskinen uses the popular Nectar card in Britain to illustrate the point, which I covered in my post about loyalty cards .  The card provides consumers with a network of coalition partners that serve their needs and cater to their buying habits. The consumer gets better rewards for participation as a result. In addition, the consumer has a consolidated effort for their business and a go-to-source for their various needs. The partners also benefit from the Nectar program by enjoying lower marketing costs and higher responses to their marketing efforts.
These examples show you different ways that you can adjust your strategy to incorporate symbiosis moving forward. Keskinen asserts that adopting a symbiosis strategy is an important part of a corporation's future business plans.  By allowing them to participate in its definition, your customers will fully understand and appreciate your ultimate value proposition.
So I challenge you to channel your inner oxpecker and look for ways you can benefit your rhinos while you benefit from their purchases. Look for ways you can tickle the skin of the shark while you increase your bottom line performance. If you do, you are likely to become the rhino's first resource for the goods and services you provide and are less likely to suffer the wrath of the shark bite for not living up to your end of the bargain.
Colin Shaw is founder & CEO of Beyond Philosophy, one of the world's first organizations devoted to customer experience. Colin is an international author of four best-selling books & recognized Business Influencer by LinkedIn. Beyond Philosophy provide consulting,

specialised

research & training from offices in Atlanta, Georgia and London, England.

Follow Colin Shaw on Twitter: @ColinShaw_CX