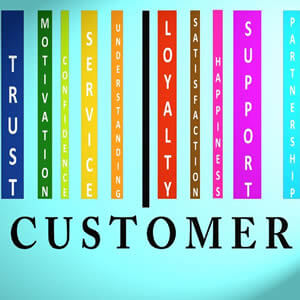 Some loyalty for brands is deeply ingrained into customers. Like people who will drive across town to a certain Starbucks because Monique, their barista-spouse knows exactly the right ratio of soy milk in their daily Chai Tea Soy Latte. Or the customers that own no clothes that don't have a Harley logo on them, which in some cases perfectly matches their tattoo of the logo…on their neck.
This kind of loyalty can be called "Fierce Loyalty." Speaker and Author Sarah Robinson define Fierce Loyalty as a situation when a customer is so ingrained in the culture of the brand that they can't imagine their life without it.
Neck tattoos aside, fierce loyalty is enviable, to be sure. Most of us would probably just be happy with strong customer loyalty. We cultivate this strong loyalty through excellent customer experience and rewards programs.
Here are 5 important things to consider as you design a rewards program to cultivate loyalty from your customers.
1. Customers Don't like to Be Surprised with Rewards
One of the pitfalls of a Customer Loyalty/Rewards programs is that what you earn can become more like an extension of the offer. So based on this you would think that would mean your loyal customers expect to be rewarded all the time, even as a surprise and for "no special reason".
But your customers are still humans who look to their surroundings for social clues that tell them how to feel or react. In a new article soon to be published in the Journal of Consumer Research, researchers reveal that customers do like to be rewarded but they also care about what other people think. So when they feel they are being rewarded for something they feel they didn't earn, like getting to jump the lengthy line at the Hotel Registration or getting a special gift in front of other patrons, it has a negative connotation to most people. Instead of feeling special they feel embarrassed.
2. Customers Generally Prefer to Earn Rewards
Loyalty programs that are earned are better. Customers prefer to feel that they earned the reward. Also, points that are guaranteed and can be used to choose a reward are better than a chance to win something, like a cash prize or a trip for two. Most people assume that they won't be the one to win the prize (and in most cases, they would be right) so are less motivated to be loyal to the program.
3. More Points Are Always Better, Especially When it's LOTS More Points
Humans are swayed by large numbers of points at an irrational and subconscious level. A new study shows that your brain is subconsciously influenced by large numbers of points, even if the value of the points is hard to assess a value. Neuromarketingscience.com published that triple points, or 100 points for every purchase is more effective to increase customer participation. These points may or may not end up amounting to anything for real, but they are perceived to be of more value than other amounts of points.
4. Customers Love Fun and Unique Rewards
Small businesses have embraced this new way of doling out points. Then, using their imagination, they create programs that are different and original. Like the convenience store that offered all you can grab in 30 seconds for 500 points. Or a chance to go on a date with the co-founder for 250 points.  Another shop gave loyal customers a chance to punch the owner's stomach for 500 points.
All of these options are, to say the very least, unorthodox but another thing they all are is fun. By being fun, they are engaging the emotions of their customers. They create loyalty by doing what they are good at, being creative and engaging their customers emotionally.
5. Your Customers Naturally Want to Be Loyal
Humans can be loyal. The truth is, they want to be loyal. The Wall Street Journal reported that Scientists have linked many benefits to our need to be loyal, the least of which is that we are far less likely to develop diabetes and heart.
Apparently, humans need to be loyal so they can get on with their lives. They can't wonder every minute if today is the day they will be double-crossed by someone they trusted. They have things to do and the constant worry and defensive posturing is quite frankly, time consuming. So we trust each other and build loyalty based on the amount of time that the trust isn't broken.
Design the Rewards Program that Works for Your Customers and Your Business
Consider each of these five things as you design a rewards program for your customers. Be sure to ask yourself important questions. What are your strengths? What do your human customers value about your goods or services? Why do they want to come back to your experience? Most importantly, how can you design a loyalty program that builds on these concepts?
So your customers will be loyal for reasons that you don't always understand. It could be irrational, emotional or subconscious, and usually all three. But it is built on trust and as long as you don't break that trust, you will likely hang on to that loyal customer.
Colin Shaw is founder & CEO of Beyond Philosophy, one of the world's first organizations devoted to customer experience. Colin is an international author of four best-selling books & recognized Business Influencer by LinkedIn. Beyond Philosophy provide consulting,

specialised

research & training from our Global Headquarters in Tampa, Florida, USA.

Follow Colin Shaw on Twitter: @ColinShaw_CX