When it comes to your organization, you know how important it is to make a good first impression with your clients. From the minute they walk in the door, they have made an assumption or drawn a conclusion about what your organization does and what it stands for. However, many business owners make the mistake of assuming that the fastest way to impress customers is to lower price. This is not necessarily the case. In fact, research shows that price is not the main factor for customers when evaluating an organization. Below is a discussion of how you can add value to your organization without lowering prices.
In 2005, we did a study to find out what emotions influenced customers' spending habits and how. What we discovered was that price is never the driving force behind if and how much a customer spends. Instead, we found clusters of emotions that tend to drive spending habits in various ways. For instance, irritated, unsatisfied, stressed customers are in the "destroying cluster", which means that if customers' experience these emotions in relation to a shopping experience, these emotions destroy their spending. In other words, these emotions lead to a decrease in spending and will only result in short-term spending habits, generally only a one-time trip.
If, however, the customer feels energetic, interested, exploratory, and such like, they are in the "attention cluster". This means that you have their attention and they are more likely to spend money, as discussed in my blog, 'How Emotions Generate $$$'. However, even in the attention cluster, it is likely the customer will only engage in short-term spending.
Your aim is to get your customers into the "recommendation cluster" or, ultimately, the "advocacy cluster". If your customers feel valued, cared for, and feelings of trust are developed in relation to their experience with your organization, they are in the "recommendation cluster", which means they are likely to recommend your organization to another person, as demonstrated in the image below.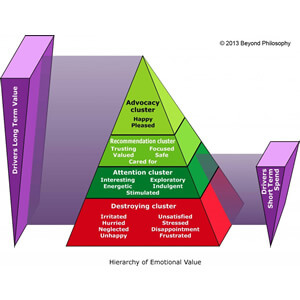 All of this is great, but you really want your customer to be happy and pleased. These two emotions do more to add value than anything else, because once your customer is happy and pleased they are in the "advocacy cluster" and will not only return themselves but tell everyone they know about your organization. By making sure your customer walks away happy and pleased, you can ensure that your customer comes back over and over and that they bring others with them. Essentially, your customer becomes a marketing representative for you, just because he or she was happy and pleased with your organization.
Small Considerations, Not Small Prices, Drive Customer Spending
Not only is price never a factor when it comes to customer satisfaction, and not only do the feelings of being happy and pleased drive further business, but we also found that it's the simple things that customers look for. There are certain things that customers do ask for and do not ask for that drive value. These are conscious and subconscious factors when it comes to adding value. Take these statements, for example, from individuals who commented on their stay at a hotel:
When staying in a hotel they often put the shampoo by the sink. Why? I need it in the shower so hotels that put it where it should be always stand out to me!"

"I stay in hotels a lot and 100% agree that lighting is always an issue and drives me nuts"

"In a hotel, they turn down the toilet paper to let me know they have cleaned room. It's something they do on purpose so that you know someone's been in and therefore feel that your room is clean."

"Free internet is great, but what about when it doesn't work? You don't think "oh, it's free so never mind" you think that you're getting a poor level of service."
As you can see, it is the subconscious signals that drive a customer's emotions which, in turn, drive the amount of money they are willing to spend. Happy and pleased customers, remember, spend more and return more often and become advocates for your organization.
The idea that it's the little things that matter most is not merely based on a few statements from hotel customers. Market Metrix recently did a study that put concrete evidence behind this idea. Market Metrix works with hospitality vendors to put guest feedback into dollars and cents analytics, determining where gaps and opportunities for growth are and then implementing strategies to help these organizations deliver exactly what their customers need; in other words, they help organizations create happy and pleased customers who will spend more, return frequently, and become advocates for them.
Market Metrix discovered that, based on actual customer feedback, the top two items that drove value were adequate room lighting and reliable internet access. Are you surprised that low price wasn't on the list? Don't be. Cutting costs, as Market Metrix points out, is not sustainable and isn't very profitable, either. By adding value with small services, thinking ahead and making the customers feel that you have really put thought into what they need, you can create happy and pleased customers and add value without ever cutting a penny off the price of your products or services.
Implementation
So how can you implement these findings in your own organization? Here are some key points to remember. Follow these tips and you should be seeing very happy and pleased customers.
Add value by thinking of the small things, and do them properly. Just because you are offering a freebie doesn't mean you have the right to do it poorly. Think of what could actually benefit your customer and take care in what you offer.
Add value with things that make your organization stand out and that compliment your services.
Think like a customer; adding value can be as simple as having appealing music, smiling employees, and a thoughtfully designed product display. What would you want to see if you came into your organization?
Final Remarks
Cutting prices is not only unhelpful in the way of creating a profit margin, it's not what customers are looking for when it comes to value. Customers want to know that you have thought of them and their comfort, what they need, and how they want to be treated. Adding thoughtful extras to your services goes much further in creating happy and pleased customers than does simply lowering prices for a time. Work on appealing to the subconscious desires of your customers and soon you will have "advocate" customers that perceive great value in your organization, all without sacrificing a penny of profit.
Colin Shaw is founder & CEO of Beyond Philosophy, one of the world's first organizations devoted to customer experience. Colin is an international author of four best-selling books & recognized Business Influencer by LinkedIn. Beyond Philosophy provide consulting,

specialised

research & training from offices in Atlanta, Georgia and London, England.

Follow Colin Shaw on Twitter: @ColinShaw_CX