Twenty years working in Customer Experience taught me that it's about a mindset. The mindset leaks out into the organization, recruitment processes, measurement programs and eventually becomes your organization's culture. The mindset becomes "the way we do things around here." In a recent podcast, we looked at how we assess organizations' mindsets, particularly about customers.
When we assess an organization's customer-centricity, we uncover signs that help us ascertain how customer-centric they are. Customer centricity describes how the organization views their customer. Customer-centric companies do what is good for the customer; other companies do good for the organization or stakeholders. A customer-centric organization builds its experience around the customers; the others do not.
In 2004, I wrote a book called Revolutionize Your Customer Experience. Through research for the book, we found there were four types of organizations regarding their orientation toward customers: Naïve, Transactional, Enlightened and Natural Organizations: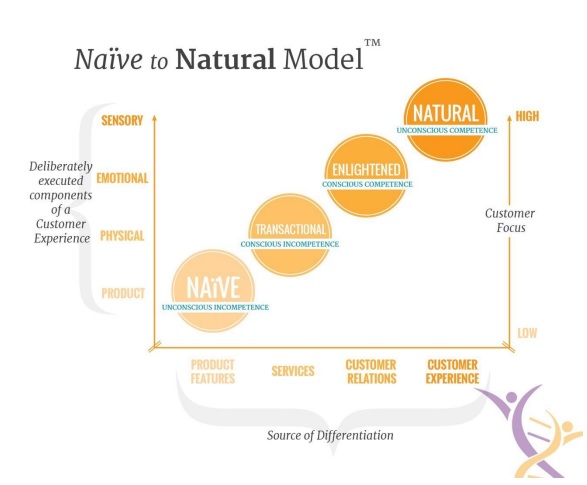 Four Customer Orientations of Organizations
Naïve:

 Companies either by choice or ignorance choose not to put customers at the center of what they do. 

Transactional:

 Firms that focus on themselves and treat customers as something to be processed.

Enlightened:

 Organizations that recognize there is emotion in experience but lack a holistic view of the customer.

Natural:

 These are the cream of the crop companies that naturally put customers at the center of everything they do. 
Every company is somewhere on a continuum in these four customer orientations. We find that majority of companies are Transactional, meaning they process customers. However, there are few Natural companies that get it when it comes to Customer Experiences, like Disney, Apple, and the Ritz Carlton. 
We also learned there are nine different areas of influence on those four customer orientations. These influences are People, Culture, Marketing, Measurement, Systems, Strategy, Customer Expectations, Channel Approach, and Process.  
Let's take a closer look at the first two areas, People and Culture. 
Read More...