Isn't it a company's first priority not to harm their Customers? I maybe old fashioned but surely ensuring your Customers' safety is your BIGGEST responsibility as a brand.
Apparently, someone should have reminded Fiat Chrysler.
Fiat Chrysler was fined $70 Million by the National Highway Traffic Safety Administration (NHTSA). Why? Failing to report fatalities, injuries, and warranty repairs. But what's worse, this isn't the first fine related to safety regulations. They were fined $105 million in civil penalties because of "lagging efforts to address safety defects."

The U.S. Transportation Secretary, Anthony Foxx, explained that it is the manufacturer's obligation (by federal law) to report warnings about safety issues. The fines issued are enforcing this law, part of a nationwide crackdown on automakers. Fiat Chrysler is in the headlines now, but Honda and Ferrari were fined by the NHTSA earlier this year. And I probably don't need to remind you about VW. They are still making headlines with their egregious breach of ethics and Customer trust.
In Brands We Trust—Until They Disappoint Us!
Each one of these car companies is a well-known brand. As well known car brands, each of us has thoughts and feelings about them. For example, when I say BMW, I think high-end, expensive sports cars, right? You might even remember their tagline, "The Ultimate Driving Machine."  And when I say Toyota, you likely think reliable and affordable Japanese cars that run forever.
But when a brand lies to Customers, those thoughts and feelings change, don't they? Before CleanDiesel Gate, you likely would have thought of VW as an affordable and reliable car brand proud of its German Engineering! Once you heard they lied about the emissions on tests however, you probably have a different association with the brand today.
We as consumers love brands. They make choosing a product easier. When you like a brand, you are more likely to buy more of it and more of their other products. Many of you know I like Apple. But if I found out that they didn't tell me that the screen caused blindness*, I would be disappointed (and probably blind, too). And disappointment is not an emotion that leads to good things for Apple's sales.
We did research with the London Business School for our Emotional Signature tool a few years ago to prove that emotions lead to more sales for organizations. We learned that there are 20 emotions that drive or destroy value ($$$$) for your organization. Here they are: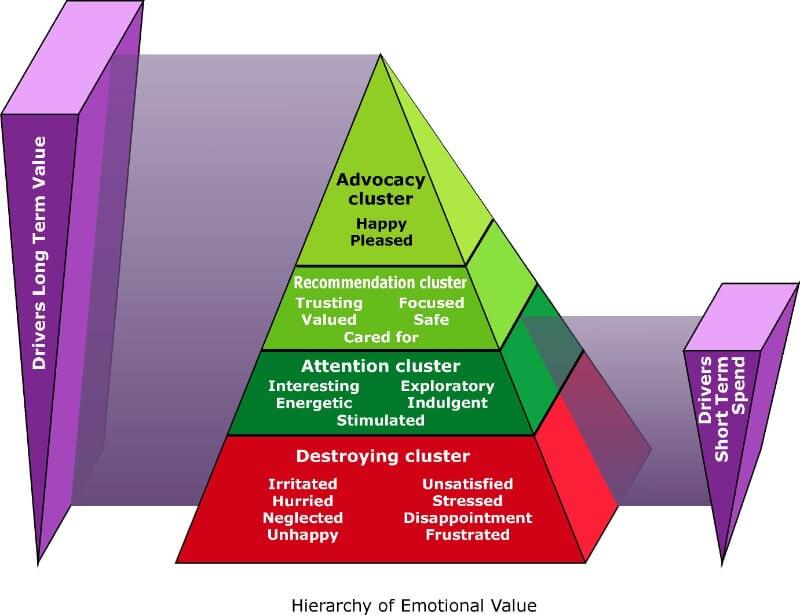 Do you see where disappointment is? At the bottom! Next to unhappy, stressed, and frustrated. Fiat Chrysler's Customers are likely hanging out down here, feeling more of the emotions on this list than most of us want to imagine.
Jeff Bezos is widely credited with saying, "Your brand is what people say about you when you are not in the room." When you lie about your emissions performance or fail to disclose safety problems to your Customers, what do you think people are saying when you aren't in the room?
I would tell you, but it's saltier language than I like to use in my posts.
*They don't.                  
If you enjoyed this post, you might be interested in the following blogs:
Losing Customers' Trust is the Worst Penalty VW Will Face
Target and Snapchat: The Power of Customer 
4 Ways to Gain Customer's Trust in Data Security
Colin Shaw is the founder and CEO of Beyond Philosophy, one of the world's leading Customer experience consultancy & training organizations. Colin is an international author of five bestselling books and an engaging keynote speaker.
Follow Colin Shaw on Twitter & Periscope @ColinShaw_CX