Improved Net Promoter Score®
Beyond Philosophy assisted Maersk Line with improving customer experience, the largest container shipping company in the world with over 500 vessels and 25,000 employees operating out of 325 offices in 125 countries.
Over a 30 month period Maersk Line improved their NPS® from -10 to +30. A 40 point improvement. How have they achieved this? What is their secret?
In this case study we will reveal the key elements of this program and how Beyond Philosophy and the Maersk Customer Experience team worked together on improving customer experience.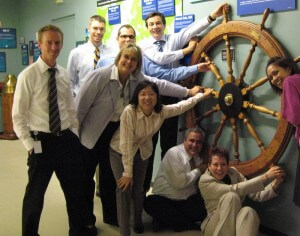 Improving customer experience with the Maersk team amid globalization and outsourcing were good years for Maersk as they acquired different companies to build a solid base globally. In addition, they invested in increased vessel capacity. With the financial crisis in 2008 bringing markets to a stand still the sector found itself with over capacity and in a vicious cycle of price competition.
This is not the place the Maersk Line wanted to be and with its margins under pressure the leadership sought to differentiate Maersk as a Premium brand. With that goal in mind they needed to put in place a strategy for improving customer experience that would make them stand out from the competition.
Improving Customer Experience With Maersk Line CX Team
Maersk Line started a Customer Initiative and engaged Beyond Philosophy to help guide them, work with their Customer Experience team and provide a series of tools and techniques for improving customer experience in the shortest and most effective timescales. In this case study you will learn the key steps Maersk Line took. Take a look at this webinar or download the PDF.
Maersk Line