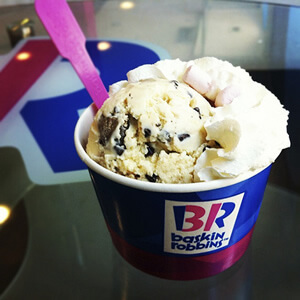 Recently I re-read Customer Experience Future Trends and Insights by Colin Shaw, Qaalfa Dibeehi, and Steven Walden. The book refreshed the importance of asking more questions about why customers and consumers make a specific purchase decision and got me thinking more about the subconscious.
Just this week, I had lunch with two dear friends.  Jo, Mary Jane and I have been meeting for lunch regularly for nearly 20 years.  At our lunches, we cover the gamut of topics ranging from politics to family.  We've seen each other through the trials and triumphs of life during our lunches.
Mary Jane is the consummate technical writer. Her communication style is clear and concise.  Jo's graphic artist background shows through with her communication style which is best described as storytelling.
This week Jo was telling us the story of suddenly having a feeling she needed to go out and eat ice cream.  She hadn't had ice cream in ages and just 'felt the need' for the treat.
Did she go to a local and well-known spot near her home? No.  She went to a Baskin-Robbins nowhere near her home.  (Baskin-Robbins is the global largest chain of ice cream specialty shops. Marketed as creating innovative, premium ice cream and value to consumers at nearly 7,000 retail shops in nearly 50 countries.)  Was Jo drawn to Baskin-Robbins for a specific flavor?  No.  Was it the price-point (value) that took her to this particular place?  No.  Did it have to do with quality or memorable service she received there in the past?  No.
She talked us through her drive to the ice cream shop, the fact that she just ordered a waffle cone with a single scoop of ice cream.  Did she mention the flavor?  No.  No particular flavor – not a favorite, innovative or seasonal flavor was mentioned.  In the details of her drive, and ordering and consuming the ice cream, I found it hard to understand why she felt compelled to go for the treat, go to a Baskin-Robbins store, and to that particular location.
I asked her why she went to that particular store.  She paused to consider my query – obviously not having considered it previously. The Baskin-Robbins she went to was near the salon where her daughter had worked.  Jo had gone for years to have her hair cut by her daughter, Jill, who tragically died of advanced breast cancer many years ago.
Baskin-Robbins was somewhere Jo associated with her daughter.  So it was an emotional relationship and the need to repeat something connected with the memory of Jill.  Jo just "felt" that she needed to go for ice cream. But where she went had nothing to do with price, location, product, or service.  Was the ice cream, store ambience or service special enough for her to remember it or to return again?  No.
I quote from the book Customer Experience Future Trends and Insights:  "Sometimes we don't know about the things that influence us, we just subconsciously perceive them. We are often manipulated by things we can hardly recall, like the smell of the bakery in a supermarket, the color of the walls in a hospital…" or an association with a particular place.  In other words, there is so much more than the rational aspects that drive consumer value (i.e., product, quality, innovation, customer service, location).
Humans are complex beings – "most of our decisions as clients and consumers are driven by 'gut reaction'; even seemingly rational decisions are impacted on by the intuitive.  Emotional twinges affect our 'in the moment' decision making and hence behavior."
Pondering Jo's story and what compelled her to go to that Baskin-Robbins location; I think through my own purchasing decisions of late, which Colin Shaw highlights in his post, "How You Really Make Decisions" .  I go to places that make me feel good about spending my money and the actual purchases I make.  Although I may feel I am making informed and rational purchase decisions, I know my subconscious and emotional connection have a lot to do with what drives my decisions.
Photo Credit: http://www.flickr.com/photos/lastyearsgirl
Sue Morgan provides strategic consulting, research design and in-depth, leading-edge analysis that helps clients deliver outstanding business results through deeper customer experience, communication, relationship, employee and brand equity insights. Beyond Philosophy provide consulting,

specialised

research & training from our Global Headquarters in Tampa, Florida, USA.